Fill-A-Charter: Port Renfrew Fishing Charters
Looking for a Port Renfrew fishing charter for 1 or 2 people, but don't want an entire boat to yourself? Our fill-a-charter service will help connect you with other anglers interested in a day of high quality Vancouver Island fishing, and looking to share a charter.
Fishing Clients: Email us with your details: how many in your party, when you want to go, what you are hoping to spend, what you want to focus on (e.g., halibut, spring salmon, coho salmon, etc). We will check our database of other interested parties and try to connect you up with other interested parties.
Guides and Charter Operators: Email us regularly when you have any availability or cancellations, so that we can connect you with people looking for a shared fishing charter.
Port Renfrew's fishing charters have the best knowledge, gear, and attitude to ensure you have an all-time day of Port Renfrew fishing action!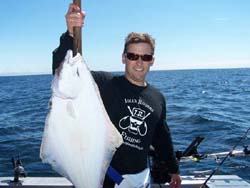 Port Renfrew Fishing Adventures
info@fishingportrenfrew.ca