Welcome to Port Renfrew Fishing Adventures
Come visit Port Renfrew for a fantastic day of fishing, the best salmon and halibut fishing southern Vancouver Island has to offer! Join one of Port Renfrew's quality fishing charters or go out on your own, for a fishing adventure to Swiftsure Bank and other Port Renfrew hotspots, where the halibut and salmon are abundant and fishing superb. Join us in Port Renfrew and make your fishing dreams a reality.
Port Renfrew Fishing Report: News from Vancouver Island July 28, 2014: Swiftsure Bank has fantastic fishing right now...more and bigger salmon, and nice size halibut too. Read more here. Also, check out our Facebook page for up-to-the-minute reports and photos.
Delicious Fish Recipes
We've selected some our favourite recipes to tickle your taste buds and inspire you on your fishing adventure. Learn how to prepare succulent feasts such as halibut in coconut cream and cedar planked BBQ salmon.

Port Renfrew fishing is unbeatable. We caught our limit of spring salmon by 9 am, halibut an hour later, then chased coho for a couple of hours, and were sipping cocktails by our campfire by 2pm. What a day!
— James Boshier, Vancouver, BC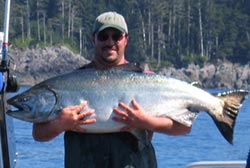 Port Renfrew Fishing Adventures
info@fishingportrenfrew.ca
Phone: 1-250-642-2587